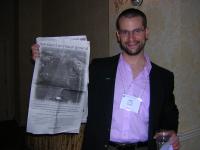 Well, the convention proper (or at least the workshops of the Leadership and Learning Series) has started. This morning I went to the Grassroots 101 session put on by Seth Chase
and Meghan Kissell of the AAUW staff. I managed to grab this picture of Seth with a copy of the News and Observer ad from April 25. [He and I had discussed reactions to the ad a couple of weeks ago. This is the ad that we agreed to cosponsor when we were in Asheville.] B'Ann Vance (Gaston Regional) and I were at that session.
Most of the NC delegation is "present and accounted for" with just a few folks still to arrive. Will try to get more of them to contribute!