Did you miss Convention? or need to leave early? Don't forget that you can still participate in Lobby Day. The public policy staff has made all the information available online and you can point and click (or dial your the offices on the Hill) to have your voice counted with the hundreds in the "big teal machine" that stormed the Capitol on Monday afternoon.
See www.aauw.org for more details.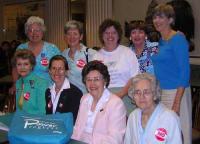 Thanks to those in the NC delegation who did make the visit to the Hill. We met with Senator Burr and two of his aides, spoke with an aide to Senator Dole and then split up to visit a number of those in the NC congressional delegation.