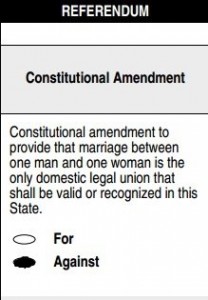 At its annual meeting on Saturday afternoon, March 31, AAUW of North Carolina debated and passed a resolution against the Amendment One that will be on the North Carolina primary ballot on May 8.
Text of Resolution opposing Amendment One
The image to the left shows how the amendment will appear on all four primary ballots: Democrat, Libertarian, Republican and Non-partisan. Be sure that your friends who have registered to vote as unaffiliated with any party know that they, too, have a vote in this primary (and that, indeed, they can choose a party ballot if they wish).
Members are asked to
Bring awareness of the pitfalls of the amendment to their branch and their community;
Organize actions to bring attention to the amendment;
Get out the vote to defeat this amendment;
Join in coalition with other organizations working against the amendment
Absentee voting has already begun. Be sure you are prepared to help voters understand both the primary voting process (since many skip the primaries) and this issue.
NCElectionConnection.com: a great resource for information on the election (how to register, how to get an absentee ballot, when early voting starts, etc.)
www.ProtectNCFamilies.org – A resource on information against the amendment
Flyer/program insert from Democracy NC on both voting rules and the amendment. Print some to hand to your branch members/neighbors or order in quantity from info@democracy-nc.org
Edited 4/14 to add Democracy NC flyer.